Bailey's Full-Service Dog & Cat Grooming
– Open 7 Days a Week –
Our Grooming Services and Pricing
Bailey's full-service dog grooming includes haircuts, nail trims, baths, de-shedding baths, special shampoos for dogs with bad skin, and flea baths.
Dog grooming is a very difficult process to stick a price on because there are so many variables that effect the amount of time that it takes to properly groom a dog.
A dog that is shedding in the fall and spring may take an hour longer to properly brush out than they do other times of the year. The same is true for a doodle that comes regularly. A dog's coat is a fluid changing thing that is rarely the same 2 visits in a row. We do our best to keep pricing consistent; but please understand that as we strive to be the best grooming shop in the region, we are not going to send a dog out the door that is not properly groomed which sometimes requires extra time which we must charge for. A dog that is regularly groomed every 4-6 weeks with proper coat-care at home will be the most consistent.
Our prices reflect the excellent grooming services offered at Bailey's and we believe you will see the quality and value our premium care can provide.
Dog Haircut: 
Bailey's provides a shampoo specifically fit for your pet, a deep coat conditioner, nail trimming, ear plucking, ear cleaning, a great blowout, brush out and haircut of your choice!
Please note, we do not do professional show grooms, however we do some show-style grooms! We also do Asian Fusion, lion cuts, mohawks, hand-stripping for terriers, etc by request!
Dog Bath and Brush:
No need for a haircut? We've got you covered. Everything that's included in the haircut package (minus the haircut) comes with the bath and brush! If you're booked for a bath and brush and would like to change it to a full groom, give us a call so can try to accommodate you. Rescheduling may be involved.
De-shedding Dog Bath:
It's (always) that season! We have high powered blow dryers and a de-shedding shampoo/conditioner for the dogs that are blowing their coat. This bath comes with extra brushing to help with the shedding. We recommend a de-shedding bath for super hairy dogs every 4 weeks.
Cat Grooming Services
New cat clients are accepted on a limited basis as we are close to capacity. Please call to be put on the waiting list and we will call when we are scheduling new cats. 
Cat grooming is potentially dangerous to the groomer and the cat, so we must make some special accommodations to get them in. We have specific cat days when dogs will not be there being groomed so that it is a quieter and calmer environment. 
Cats also have the tools to say "No" and really mean it. There are no guarantees that we will be able to complete a cat haircut or bath if the cat decides it is done. We have had a high success rate but a cat bite can put a person in the hospital for 2 weeks and with their claws they can really shred some skin so it is not worth pushing their limits. Because of this we must have a minimum charge is $75 for a bath appointment and $90 for a haircut appointment even if we are unable to finish in order to compensate for the spot on the schedule.
Prices for completed cat grooms are outlined below and may still vary due to various factors. 
Nail trims: $17

Tidy up: $50+  Includes nail trim, brush out, sanitary trim (matt removal may be extra)
Bath & Brush: $100+

Bath & Tidy: $115+

Haircut & Bath: $150 – Price is for haircut and bath will be done after haircut if cat allows. 

Because cats are equipped with tools to cause serious damage to humans no service is guaranteed to be completed. Shelby has a high success rate especially with regular clients. Our minimum charge is $75 for a bath appointment and $90 for a haircut appointment even if we are unable to finish. 
We base our prices on the time it takes to complete the groom as requested. Dogs that are matted, ill behaved, unable to stand, or are shedding excessively will take more time and therefore will cost more to complete. If you ask for a quote, we can make an educated guess but please know that it is a guess and may change.

Because it is based on time a dog like a husky that comes in and needs a huge de-shed and takes 2 – 3 hours to complete may come in 4 weeks later in great shape and be half the price.

Be sure to ask for a quote BEFORE the groom starts, it usually doesn't come up.

*Groom prices may increase after the groom if the pet is:

Matted
Extra brushing is required
Difficult to groom (such as excessive biting or resisting)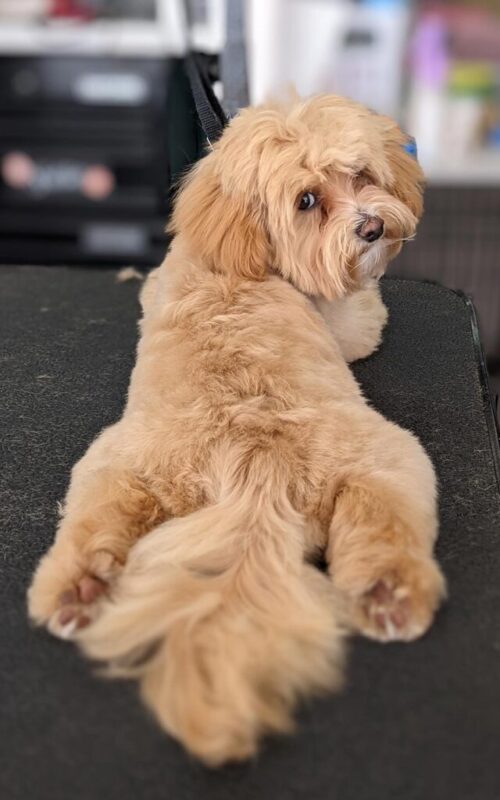 Need help in between grooms?
Let Bailey's help!
Dog Nail trim: $10 – $15
​Cat Nail trim: $17
Brush out: $15+ (depends on condition of dog – does not include bath)
Nail grinding: $15 – $20
Bath and tidy: Bath, brush out, face and foot trim, sanitary trim, mat removal. Pricing varies based on time needed to complete.
Bailey's Grooming Gallery
Bailey's – Bellingham's Original Self-serve Dog Wash